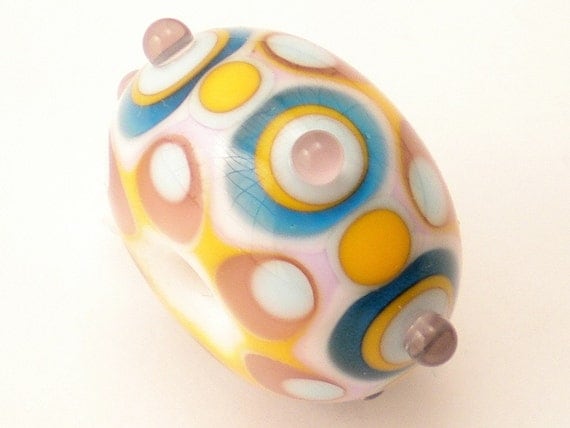 Pansy Skies is one of my favorite beads. I love how perfectly balanced the amount of colors and the placement of dots turned out. I have an issue with color...more is better I say, but not necessarily better looking. Often my work looks like (at least to me) I just didn't know when to stop.
Some people have such a talent in the area of color, and two "masters" I admire are Brandi
(Brandi Girl Blog)
and
Margie Deeb.
There is so much inspiration, but never enough time or money to create all the things I would like. I think that is what I love about websites like Pinterest and Polyvore. They let me plan to create. Here I planned to create a necklace with Pansy Skies using complimentary beads by Lori Bergmann. I had a lot of fun designing an entire ensemble around my imaginary necklace, including a FABULOUS pair of shoes I can only think about wearing!
If you ever want to see how I would design jewelry with my, or even your beads, subscribe here to my blog,
follow me on Polyvore
, or just
send a request
.
Even better, create your own designs with my beads and share them with me on
my Facebook page
; I'll give you a coupon for 15% off if you do!
And if you "Like" my Facebook page I'll give you ANOTHER coupon
to combine for a total of 30% off!